Marami sa atin, hindi maiiwasang uminom as a form of socialization or stress-release.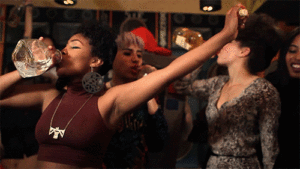 And we all know that kung masosobrahan, there's bound to be consequences. Too much and too often, we take in things that can negatively impact our health.
Some studies will encourage moderate alcohol consumption, citing potential health benefits, while others completely demands its removal from everyone's diets, accusing it of causing various risks and diseases.
Without a doubt, alcohol will have an effect on your body regardless of amount and type. While an occasional drink will have barely produce significant changes, more than one glass can per session can.
If you want to watch out for your health but refuse to completely cut off on alcohol intake, what is there to consider?
Drink mindfully.
Be aware of the alcohol content of your drink. The higher the content, the more you will consume per serving.
Consider your drink as an accompaniment to food.
Let it be an enhancement but not the main course.
Pair your alcohol with softdrinks, juice, water, etc.
This will help you fill up quicker while reducing alcohol consumption and replenishing your body with fluids.
Choose wisely.
Premixed drinks are high in sugar, artificial sweeteners, and additives. Most of the time, they taste sweet so it is easy to consume more than you planned.
Dry wines are originally made from fruit but most of its sugar is converted into alcohol during fermentation.
Red wine is rich in resveratrol, a powerful antioxidant, but in order to reap its full benefits, you need a very significant amount. Dark red berries and grapes can do the job more efficiently.
White wine contain less alcohol than red wine.
Rosé and other dessert wines tastes sweeter but contain more calories.
Vodka is lower in calories than mixers.
Beers are very high in carbs and sugar. It will impact your blood sugar levels significantly.
Hard spirits like gin, whiskey, and tequila are usually served straight. They don't contain addictives and have the least calories. Mix in a little lime or lemon juice if you're craving for some sweetness.  
By Kat Cabasan