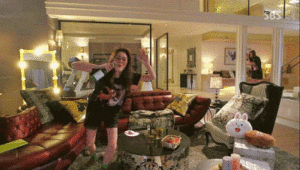 Summer may be over but it doesn't mean you can stop enjoying it. How? By making your own summery treat in a glass. And wait, this is not your ordinary drink, mga teh. This is soju (a Korean distilled alcohol) as your fun companion to discovering new tastes.
Some people can't take the burn of pure soju but when mixed in a fruity concoction, it is far easier to handle. Parang pang summer cocktail lang that you can enjoy while being at the beach so pick up a bottle of soju from your local grocery store and you are on your way to getting your taste of refreshment.
A popular thing to pair up with soju is kiwi juice. Pour in some kiwi juice in a glass, add soju, and drop in some ice. You're done! Ikaw na ang bahala kung prefer mo ba ng less kiwi juice and more soju or more juice and less alcohol. You can also substitute kiwi with others juices like strawberry or lemon. There is no wrong combination. Just be careful, baka sa sobrang sarap, makalimutan mong hindi puro juice lang yan.
Back in Korea naman, the people have a pretty developed drinking culture so it is not surprising to say that they love their soju. And with this love comes the creative ways they came up to drink their alcohol. For example: they mix ice cream and soju. Yup. Hindi ka nagkamali, you read that right.
Melona-ju is a classic. Creamy and sweet, you'd think na dessert na ang iniinom mo. How can you make one? Easy. Just mix a shot of soju, half a cup of Chilsung cider, a bar of Melona ice cream, and some ice in a tall glass and it's ready to be enjoyed!
By: Kat Cabasan