Pagod ka na ba sa mga lumang tinatagay mo? Feeling a little more adventurous but don't know where to start? Don't worry, we're not going to introduce you straight to the downright crazy mixes. We'll ease you in by presenting you with super easy to make drinks that will satisfy your curiosity and your tastebuds.
With its popularity reaching far beyond Japan where it was originally from, sake is fast becoming a familiar name in the Philippines. You may have likely heard of it in restaurants or seen it sipped in a movie. And if you check the international section or the alcoholic beverages aisle in grocery stores, malamang may makikita kang mga bote ng sake na available.
Remember that while sake is traditionally served warm, newer kinds of sake are best when chilled. Make sure to note what kind you are getting. When drinking straight, don't drink it like a shot. Take small sips.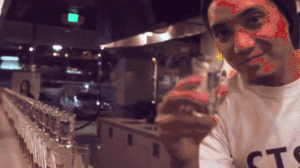 If you want to use sake in a mix, one of the most popular sake-based drinks is the sake bomb. All it needs is a shot of 1 part sake dropped into 6 parts Japanese beer. Oh di ba? Yun lang, may itatagay ka na. Easy peasy.
Another simple drink to make is Green Iced Tea. Pour 2 oz. of Japanese green tea into glass with 2 oz. of sake, add ice, and stir slowly. It's done.
If you prefer a cocktail, a Bloody Maru just might be your thing. To make a serving, fill a glass halfway with ice, pour 2 oz. of sake, add 4 drops of Worcestershire sauce, 2 drops of Tabasco sauce, a dash of horseradish, a dash of lime juice, and a pinch each of salt and pepper. Stir well. Pour in tomato juice to taste. Stir again and enjoy.
By: Kat Cabasan